In my last post with the title "
Why Fukushima's Reactors Failed
" published online Nov. 4, 2013, I used the
2011 Fukushima Daiichi Nuclear Power Station disaster
to emphasize the existential importance of housing cooling water pumps and electric power equipment essential for emergency reactor shutdowns in flood-resistant buildings, particularly for power stations located in flood-prone areas.
Elaborating on a comment to that post, this essay will point out that exhaust stack elevation could have made a crucial difference in the Fukushima reactor accidents.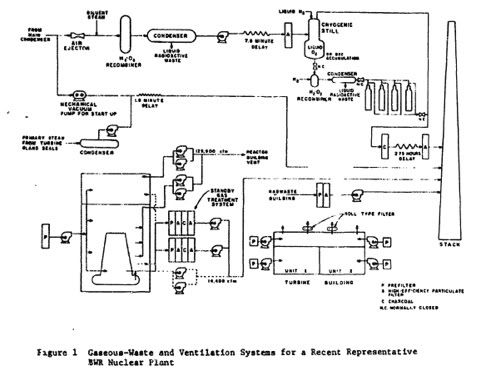 Electric motor-driven fans support just about every air handling system in the reactor building of a nuclear power station (see the numerous blower symbols in Fig. 1 from
Row, 1971
), pumping effluent gases to the main exhaust stack and maintaining a negative building pressure that disallows potentially contaminated air to escape unfiltered into the environment. Contaminated effluents are forced through filters and vented through the main exhaust stacks, except for hardened venting. During hardened venting, contaminated steam and gases may directly be routed to the exhaust stacks as a means of last resort in an emergency, relieving pressure from the reactor after all other options have been exhausted. Furthermore, hardened venting may prevent hydrogen produced by melting fuel rod cladding and radiolysis from reaching explosive concentrations.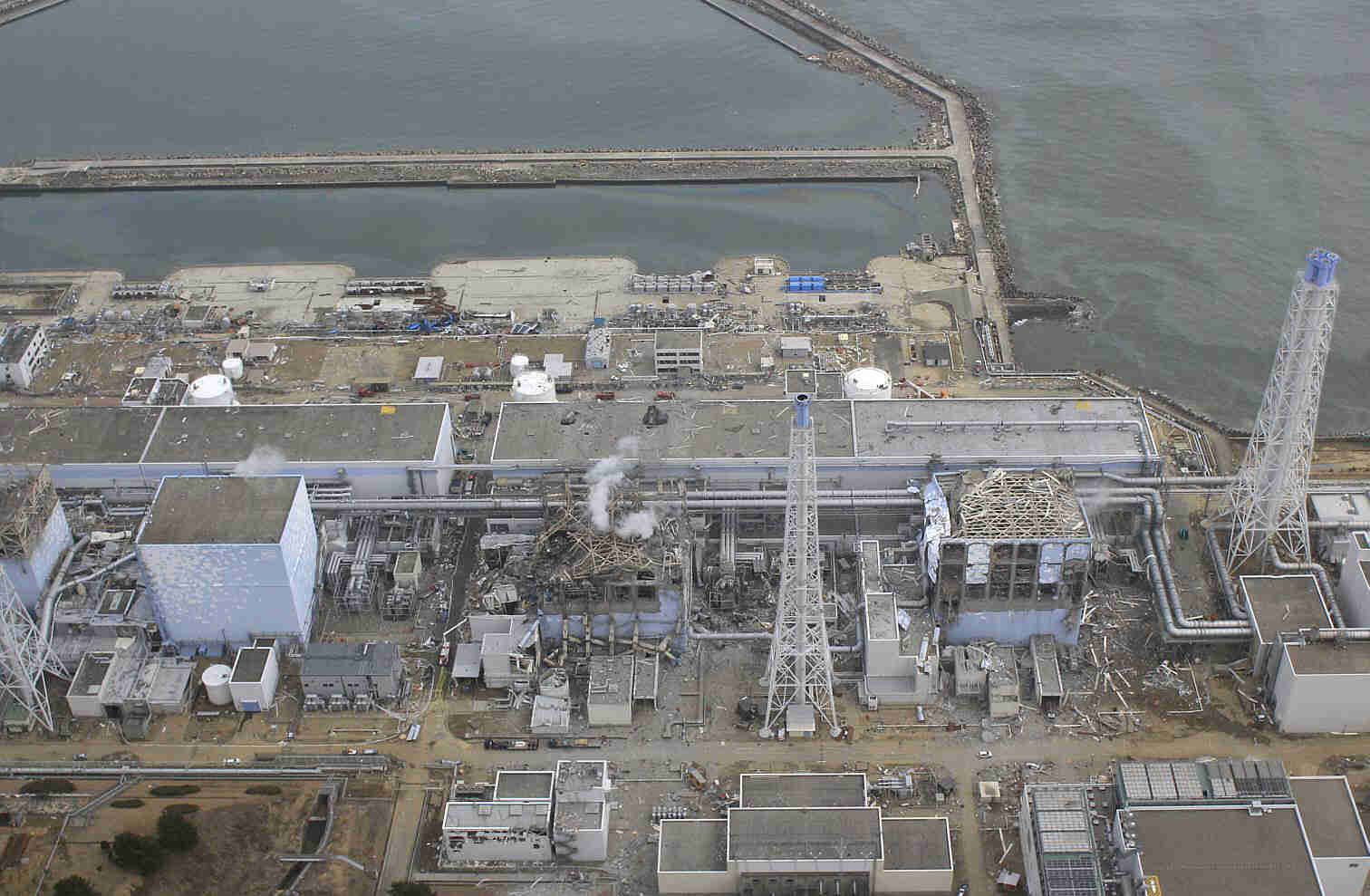 Bird's eye view of Fukushima Daiichi Nuclear Power Station after hydrogen explosions destroyed the service floors of units 1 (left), 3 and 4. The tall exhaust stack towers can be seen on the left between units 1 and 2 and at center between units 3 and 4. The small sheds housing the fan gear are located at the base of the towers (source: cyptome.org).
But, the tall exhaust stacks at Fukushima need fan-support to generate sufficient draft. The fan gear is housed in small shed at their base. During a station blackout, the stacks must rely on draft alone.
According to the
Fukushima Nuclear Accident Report (Interim Report) Dec. 2, 2011,
of the stricken power station's operator Tokyo Electric Power Company (
TEPCO
), hardened venting released hydrogen in Unit 1's reactor building, flowing back through open valves and baffles. When mixed with air at concentrations above four percent, hydrogen may explosively
deflagrate and detonate
. At Unit 3, the hydrogen may have exploded inside the primary containment vessel.
By contrast, Unit 4 had been shutdown for inspection at the time of the earthquake, the reactor had been unloaded, and the fuel had been stored in its spent fuel pool. Despite, the reactor incurred a hydrogen explosion during the night after the violent explosion at Unit 3. It appears unlikely that the hydrogen sustaining Unit 4's explosion was produced there.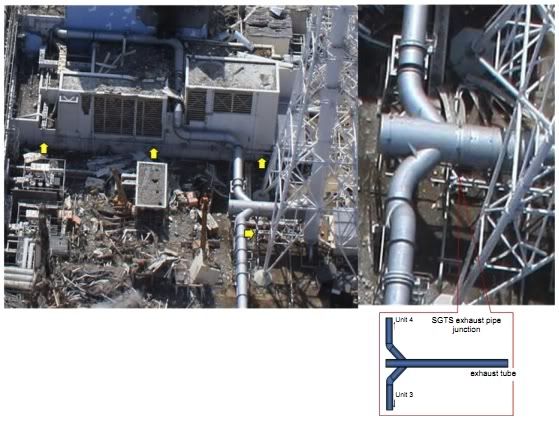 Junction of SGTS effluent piping of Unit 3 and Unit 4 at the base of shared stack (arrow) (source: TEPCO).
TEPCO contents that hydrogen migrated from Unit 3 to Unit 4 through the Standby Gas Treatment System, or SGTS for short (see lower center of schema in Fig. 1). The SGTS is used to filter contaminated air and funnel it to the main exhaust stack. According to TEPCO, gas from Unit 3's SGTS was permitted to cross over into the piping of Unit 4's SGTS at the junction connecting both systems to the shared stack.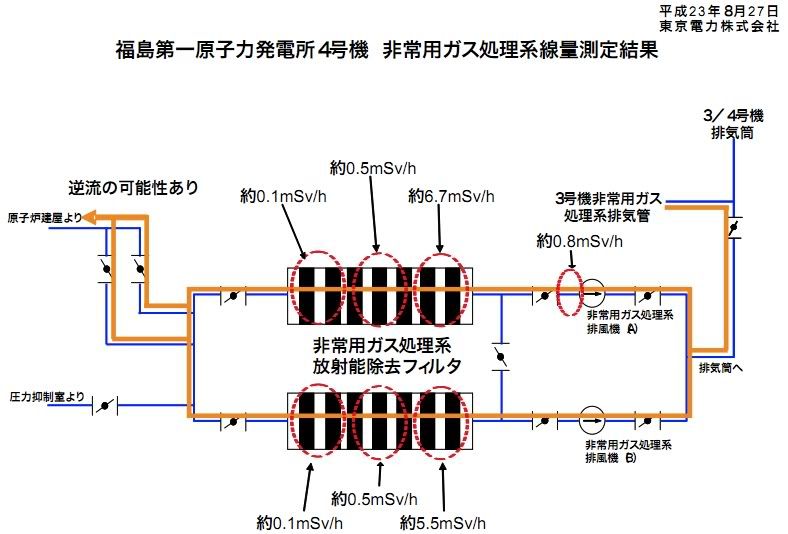 Unit 4's SGTS filter contamination. The connection to the stack shared with Unit 3 is on the right (source: TEPCO).
TEPCO supports this contention with finding progressively greater outside-in contamination of the filter cascade of Unit 4's SGTS.
Had the shared exhaust stacks been tall enough to passively generate sufficient draft, the hydrogen explosions may have been prevented, particularly the one at Unit 4. Therefore, it is prudent to ensure that all nuclear power stations are outfitted with exhaust stacks tall enough to provide sufficient draft when all power fails.
Tomorrow, Nov. 21, 2013, the US Senate Committee on Environment and Public Works and the Subcommittee on Clean Air and Nuclear Safety will hold a joint hearing on the "
NRC's Implementation of the Fukushima Near-Term Task Force Recommendations and other Actions to Enhance and Maintain Nuclear Safety.
"
Hopefully, the NRC has incorporated sufficient exhaust stack elevation into its recommendations for US reactor operators.
Reference
Row TH (1973) Radioactive waste systems and radioactive effluents. Georgia Institute of Technology Short Course.
Acknowledgement
SimpyInfo.org
provided the information for this post.